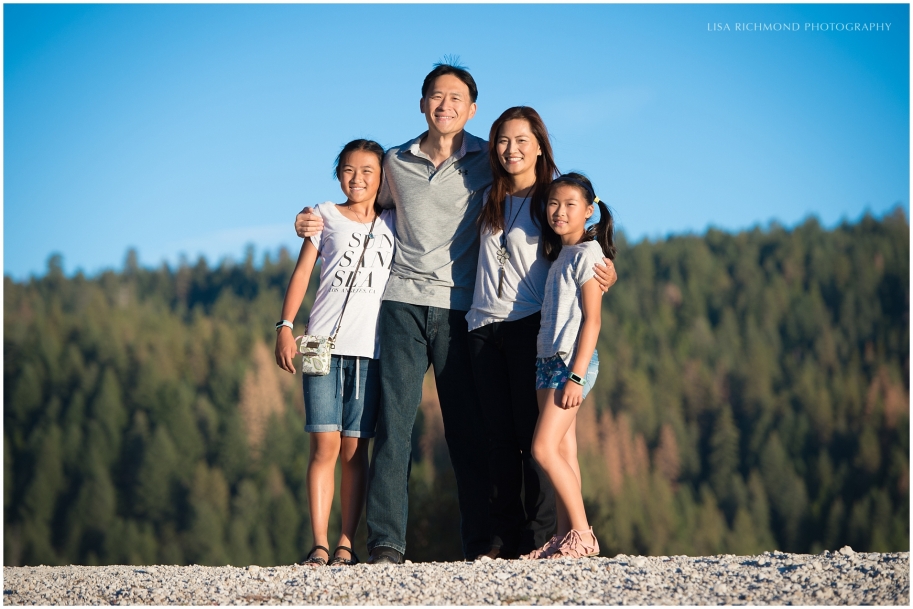 It was one of those sunny, golden fall afternoons that make me pinch myself: not only do I get to live in the beautiful Sierra Nevada mountains, but I also get to follow happy families around while they enjoy the outdoors, trading jokes and snapping photos.  (And I call this "work?"  Ha!)  With the loving, energetic, incredibly photogenic Jen family as my clients and a bright blue sky overhead, it was a great day at the office for sure.
The Jen sisters are close in age and also very close to each other.  Watching them goof around was so much fun and reminded me of the special bond my own daughters share.  Catching those in-between moments when true sibling love and affection come through is something I love to do.  I also loved that Dad brought his motorcycle along for a few photos, which definitely added some serious style to this already 5-star family session.
When mom Judy called to schedule a family session for the fall, I was thrilled for her!  I know there are a lot of you out there that would love to have some family photography done, but think "oh, I missed the deadline for holiday cards this year… " or "we'll wait until junior gets his braces off…" or "I'll schedule one after I lose those stubborn 10 pounds…"  Believe me, there are a lot of good reasons for putting off that photo session for the "right time."  But in truth, the right time is always NOW, and there are plenty of NEXT times to follow.   Life passes by quickly, especially for those of us watching our children grow up.
While you may be hesitant about stepping in front of the camera, you will never regret the decision to do it.  Let's go on an adventure soon!  I'll just happen to have a camera in my hand. 😉
Thank you to the Jen family for giving me an afternoon at Sly Park Lake to remember!  I'm already looking forward to the next time I'll get to document this beautiful family.
Warmly,
Lisa