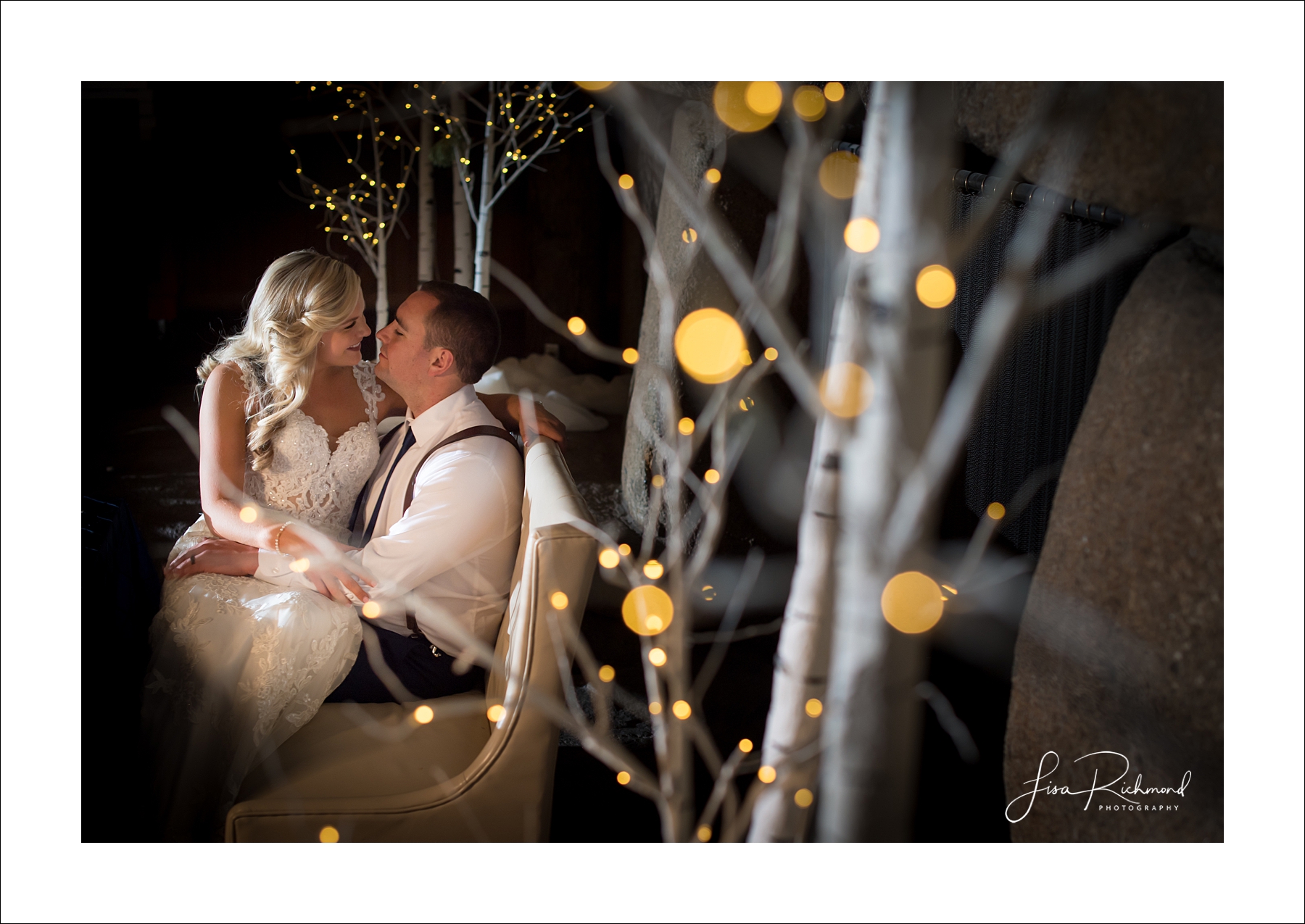 Briana and Danny came ready to party!
Taking over an entire mountain-top resort in the incredible Bear Valley, California, this fun-loving couple, their friends and family, started the celebrations the night before we arrived but that didn't stop the festivities on their big day.
The whole day was nothing short of joyful with many unique and personal moments, starting with a unique and heartwarming first-look for Briana, not with Danny, but with her grandparents. It was hard not to have tears in your eyes as they saw Briana in her dress for the first time, or when they walked her down the aisle. Speaking of which, what an aisle! Another 10 feet and the whole wedding party would have fallen into a grand canyon. Breathtaking mountain and valley views stretched out in 180 degrees behind the wedding arch – a wedding arch hand-crafted by Danny from a tree on a friend's property right here in Pollock Pines, where I live. The smell of mountain air mixed with copious lavender as Briana arrived, grown and harvested on their own property for the occasion because it's Briana's favorite smell. Truly one of the most breathtaking ceremony spots I've ever shot in.
After some moments with the newly married couple and my camera on the mountain trails at sunset, Briana and Danny made the journey back to their reception location at the Bear Valley Resort, in style. Danny is a firefighter and the local fire station allowed them to use their engine for their first journey together as husband and wife! Danny also took advantage of the old adage that girls dig guys in uniform during the garter toss, by dressing in his turnout gear and teasing Briana with his Chippendales impression before he went in to find the garter. Such a playful moment that they will continue to recount for years to come.
When everyone's feet got tired of dancing (and there were some pretty skilled line-dancers in this party) everyone got to wind down with a late-night pizza party and a firepit on the patio. Time for us to put our cameras down too, an opportunity to take a breath before bed and our journey back down the gorgeous mountain passes the next day. This is why we so much appreciated the bottle of wine that Briana so thoughtfully reserved for us behind the bar and that we got to enjoy in the chilly night air, huddled around the fire pit, talking long after the music stopped. 
What a fantastic, fun-filled day in an incredible location. It doesn't get much better than that!
Congratulations, Briana and Danny. Enjoy these images of the many wonderful moments you created on that day.
And as always, it take a great team.
Special thanks to my second photographer, Michelle. Love her eye. We both hope you love these favorites….
2nd Photographer: Michelle Carter, Venue: Bear Valley Lodge, Coordinator: Sarah DJ: JS Productions, Wooden Bouquet: Southern Blooms Co. Cake Artist: Sue Bottoms, Hair Stylist: Christine Martinez and Aimee Greear, Acqua Hair Design,