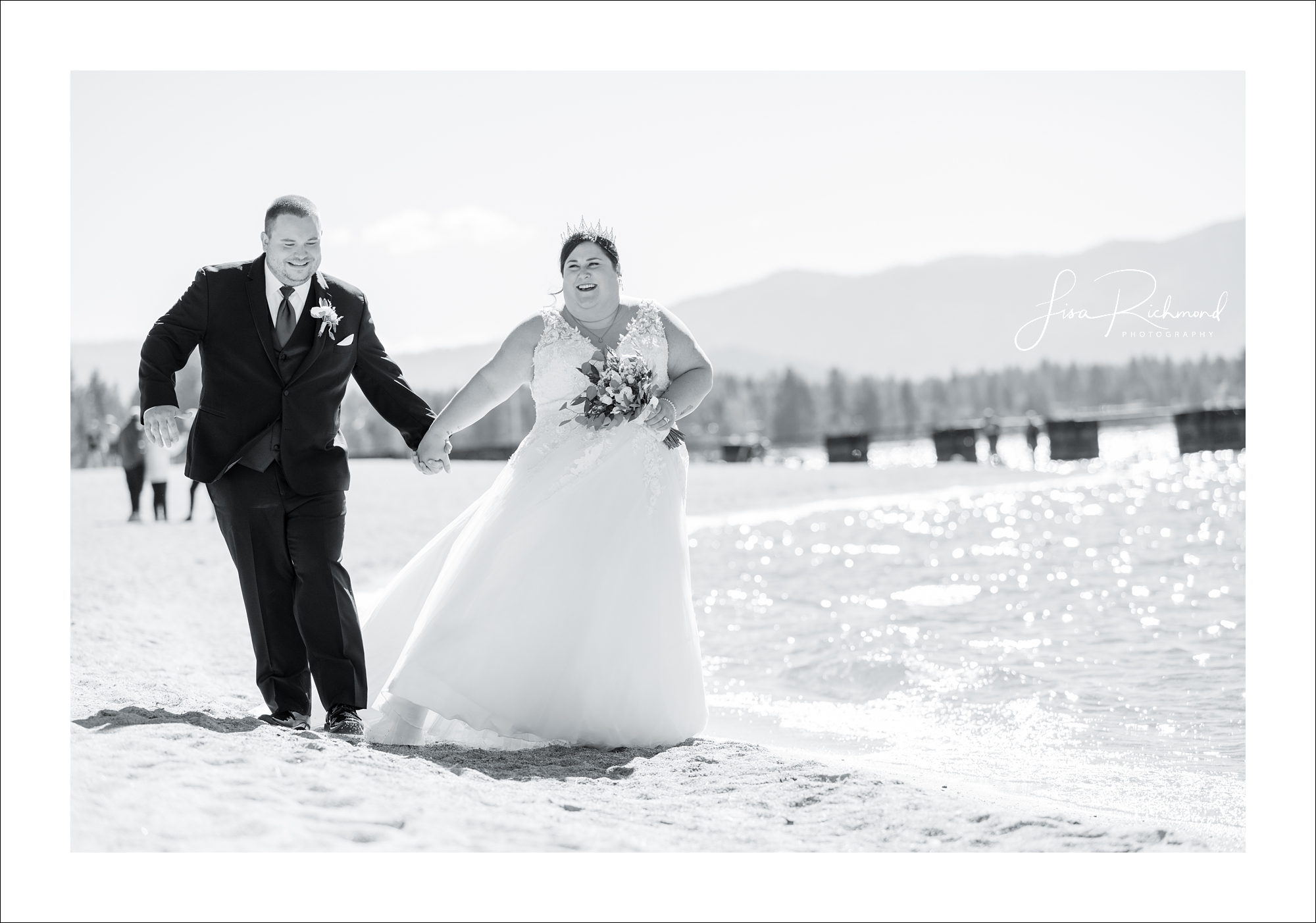 Cara and Justin were engaged for over three years having met on Match.com.  With family ties to Lake Tahoe, they wanted to be married on the shore of the lake and chose Lakeside Beach in South Lake. Their reception was just up the road at South of North Brewing Company/Basecamp Hotel which was the first time I had been there. It was a cool venue that was sectioned off for the wedding and the bride and groom seating was right in front of a vintage Airstream. I loved that this brewery was just off the beaten path of a very busy area- I'll have to remember it the next time we are at a concert at Harvey's. Great outdoor space- lots of great IPA's that I will make sure to go back to sample.
I always enjoy meeting the family and friends of the couple. It's a quick look into a couple when you see who cares about them the most. Honestly, there was so much love surrounding these two and the whole day had a joyful, celebratory feel, complete with great brews and outdoor firepits. Once the getting ready and ceremony were complete, I saw the nerves of Cara and Justin melt away as they took off for the reception. Another thing that stood out was how much these two and their crew loved to dance. There was a Daniel Boone-type hat (which I am now researching, that he did not actually wear) that was introduced by the best man and once adorned with it, the dance floor had your name on it. Maria, the coordinator was great to work with as she kept the whole day flowing. Many thanks to my second, Jamie Mallery for her beautiful work and who stepped in two days before the wedding as my original second shooter got Covid. Ah, these times can keep you on your toes.
Much love and congratulations to you two and thank you! Here are some of my favorites.
Second Photographer: Jamie Mallery
Venue: Lakeside Beach
Reception: South of North Brewing Company
Coordinator: Maria Guare
DJ: Ryan Palmer
Floral: Enchanted Florist
Cake Designer: Amiee Pollock
Hair and Makeup: Tahoe Wedding Hair and Make Up