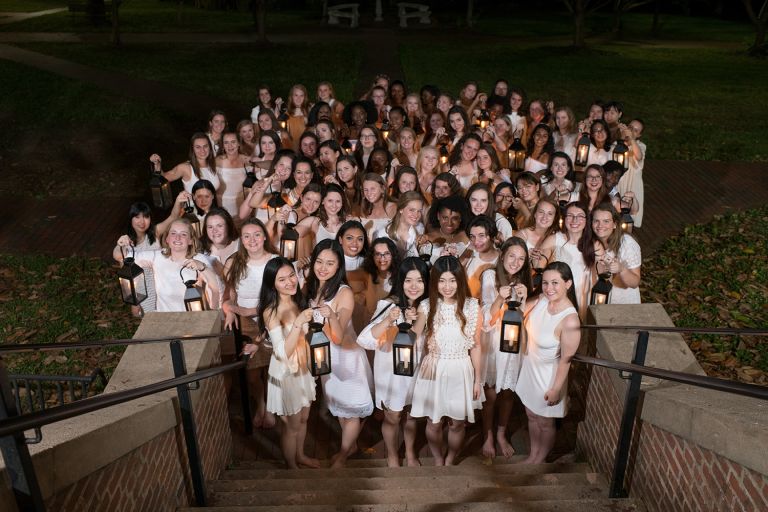 The class of 2018 and 2019 getting ready to begin the Lantern Ceremony
Hello to the Chatham Hall community,
Thank you for another great time on campus.
I am working to get all of your photographs uploaded and online sometime early next week. Until then, the slideshow from graduation is now ready for viewing. After 33 years, I still get emotional putting together these graduation-weekend reflections. I move in and out of feeling like a student again,  a parent,  an artist and then sometimes all at once. I truly hope you enjoy it, too.
A big shout out of gratitude to all those families who pre-registered for my photography services this year. It is through your advanced registration and subsequent orders that I am able to come out from California annually to provide this special memory for Chatham Hall families. This year there were two of us there to make sure we captured this beautiful graduation story and from a multitude of angles. I love the opportunity to be out on the field during the lantern ceremony, I only wish it lasted twice as long.
All registered families will receive an email that will include special discounts, print credits as well as a personal gallery folder where I have curated a bulk of the images that I think you would like to see. Go there first, then hit up the entire gallery which is organized by event and event date to make viewing easy in order to find more! I encourage everyone else to look through the entire gallery and to place an order if you find some moments you'd like to have. Feel free to share with your family members too.
SOCIAL MEDIA AND SHARING:  Although I know seeing your images for the first time is exciting and you want to share your favorites on social media, I wanted to provide a friendly reminder that the images in the slideshow and gallery are copyrighted. Unless you purchase the digital files at a later date from your online gallery, any images shared must retain my company name watermark. In addition to ensuring my images cannot be hijacked by 3rd parties and passed-off as their own (as sometimes happens in the photography world, sadly) the watermark also helps continue to promote referral business for Lisa Richmond Photography. When your galleries are released, you will be able to share watermarked images on your social media. I really appreciate your cooperation with this request.
PRE-REGISTER TO SEE GALLERIES: If you have not already registered for photographs before graduation or if you have a new email address, be sure to click the link below to register with your email address so that I can let you know as soon as all the photographs are ready for viewing. (…very soon). I will never share your email with anyone. NOTIFY ME WHEN THE GALLERIES ARE READY
SLIDESHOW LINK:
_____________________
Congratulations to the Class of 2018. I wish an abundance of health, happiness and relaxation to everyone. Have a great summer!
I'll be sending out complete information on how to view, share and purchase graduation photographs when I post the galleries online later next week. Thank you so much! Class of 2019, I'll see yo this fall!
Enjoy,
Lisa
office  530.644.7980