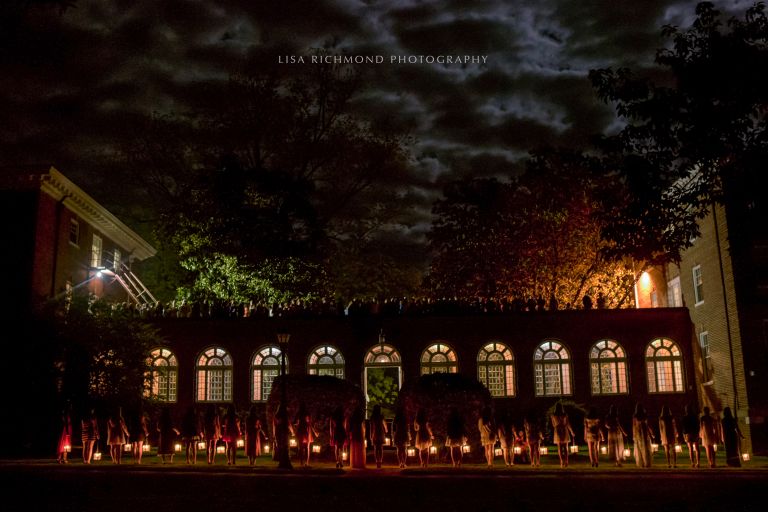 Enjoy the slideshow. And remember, it is a show that requires Adobe Flash, so put down your iPhone or iPad and watch it on your main computer or one that supports Adobe Flash. Your complete galleries will be ready in about a week.
Slideshow link:
http://www.lisarichmondphotography.com/SHOWITSHOWS-/2016_ChathamHall/
It's hard to believe that Chatham Hall has been a part of my life for much longer than it hasn't – first as a student for 3 years, and then returning each year to photograph the annual commencement traditions for the next 32 (and counting).  Watching the excitement of these young women as they prepare to take off on new adventures, and the emotions of friends, faculty, and family as they walk these ladies through one of life's most significant milestones, fills me with hope and a youthful, positive energy. As a photographer I love capturing emotion and at Chatham Hall there is no limit to it.  That emotion is the adrenaline that fills my cup.
I must admit, if I am being honest, to being filled with a little bit of exhaustion too. It was a very busy weekend.
This year two of my classmates from '84 took to the commencement stage: Tracy Bartlett Lively (mother of Mary Elizabeth '16), to hand out an Iris to each graduate, and Sarah Monarchi Longpre (Board of Trustees member) to pass out diplomas. Capturing my classmate giving her daughter an Iris I couldn't help but reminisce. It seems like not so long ago we were all each passing down our own lanterns to the Class of '85, in fact, the very same lanterns the students use today.
One might think that my long history with Chatham Hall would give me a unique perspective on the school, and in some ways it has, but that really doesn't tell the story. Don Wood, who has been there almost as long as I have, gave a baccalaureate speech that resonated with me. Listening to him speak, I smiled as I reflected on the many years of us rubbing shoulders at each graduation as we worked together, Don with motion and myself with stills, often vying for a similar angle. We've taken pride in capturing the essence of what this magical weekend means to the students and their families. In his speech Don referred to Chatham Hall as a "community," and the activities and rites of passage shared here as things that "bring us together, unite us, and allow us to share a common experience." That common experience, the shared traditions and sense of community, is what makes these ceremonies truly special.
 The 2016 commencement weekend was met with the usual excitement and anticipation by the seniors and rising seniors, but it also came with some anxiety for all those behind the scenes, myself included, as a broad, rainy forecast threatened to dampen the outdoor fun. Kudos to my assistant and second shooter, Nat LeDonne and my student assistants, Lanie, Skye and Guppy for working diligently and enthusiastically with me as we worked out the various plans (A, B and sometimes C) for all the changing weather combinations. And to La, Tammy, Owen, George and JC – the very "community" I like on my team. Thank you all for being so good at what you do! Oh, and a special shout out to Jeff Braun who retired this year after teaching 29 years, since 1987, at Chatham Hall. After capturing photographically his enthusiasm for this class, and their enthusiasm for him, I can tell he was loved and know he will be missed. I wish him the very best.
I am excited to share this graduation slideshow with you. Expect a lot of hugging, laughing, smiling, joyful crying, and above all else, photographs that capture the essence of community, our community. Every year I am amazed by the continuing strength of the friendships I see, and the genuine love and support within the Chatham family that I feel.  As a proud mom who gets to have her own daughter attend Chatham Hall this fall(class of 2020), I couldn't be more impressed by the community that she is entering – nostalgic about the community I return to – and excited about the community that we will share.  To the graduating class of 2016: Congratulations, best wishes, and welcome to the club!
__________________________________________________________________
These were the things that Don spoke about and I know you all will enjoy re-visiting some of his themes.
"I hope you will continue to be thankful for the people and opportunities in your life by taking advantage of those opportunities. That you appreciate each day for what it is: another opportunity to learn, listen, share, grow, participate, and contribute.  Being thankful means you do not take too much for granted, which is so easy to do when all of us have so much."
"I hope in your life there is plenty of music, song, dance, celebration, laughter, conversations, and expressions of emotions.  I don't wish disappointments for you, but . . . WHEN they come, I hope you are able to put them in perspective, learn from your mistakes and move on, and that your regrets are limited.  I hope you learn that a broken heart just helps you better see real love and true friendship when it comes along."
"I hope you can learn to judge people not by their religion, or color of their skin, or their ethnicity, or their sexual orientation, or their political views, or what they say, . . . but by what they do.  I hope you will be thankful for the diversity that new friendships bring and what you can learn from others.  If you haven't learned it already, I hope you soon learn that loving people is just as important as being loved."
"They say "Winners never quit" and "Quitters never win", but knowing when to quit and change course is just as important as "hanging in there" way too long."
"Of course, I hope you will be "happy", but life can be complicated and being happy all the time is probably not a great goal.  As much as being happy, I hope you are "interested, curious, caring, engaged, and involved".