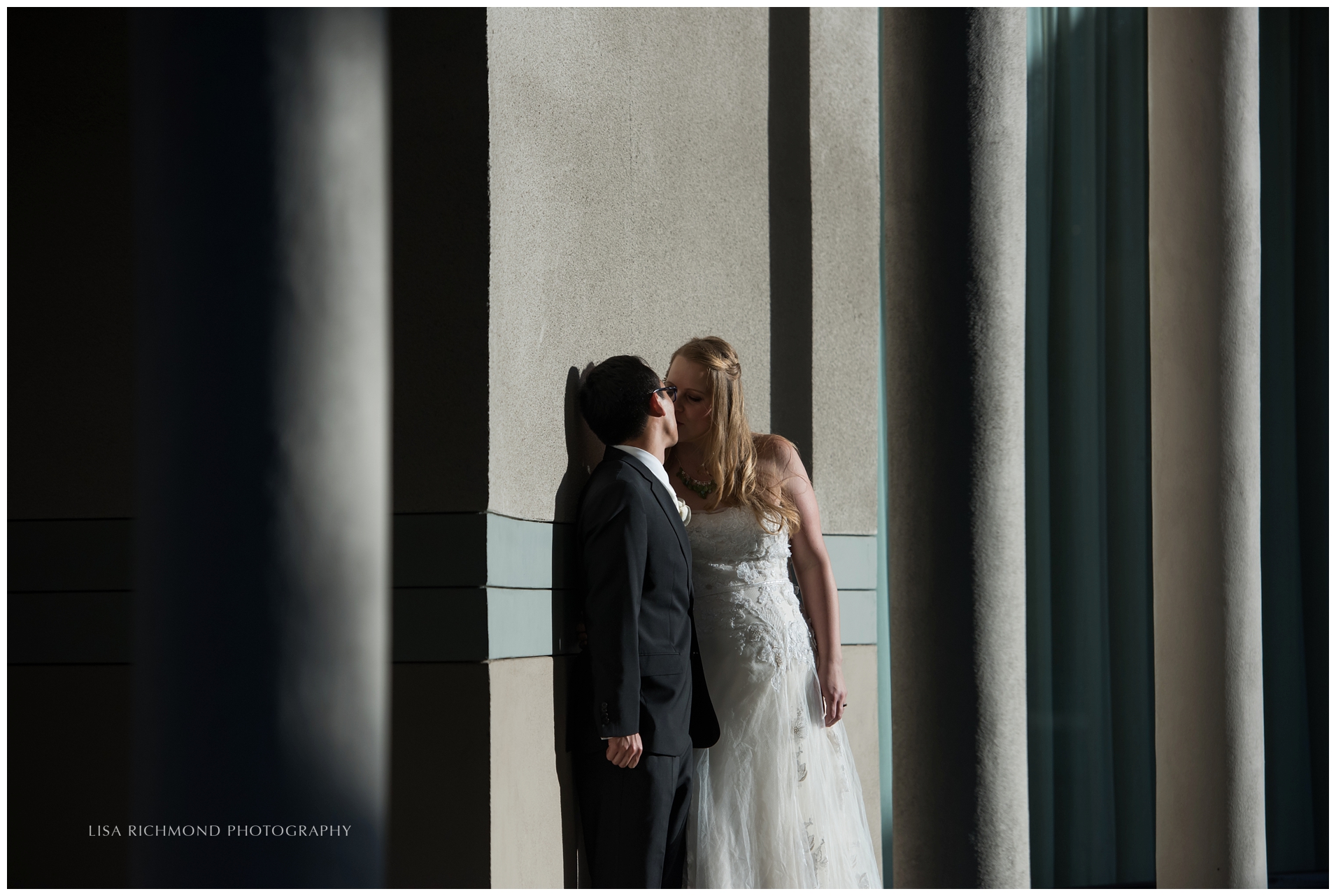 Eva and Stanton were already married in a civil ceremony in San Francisco earlier this year and so the pressure was off for all-but fun for their celebration with family and friends at the Triton Museum in Santa Clara.
Their ceremony was held outdoors, behind the museum, in a grassy, wooded area but we also got to explore the inside of the museum for their couples photos. It's such a different environment, dealing with modern lines and architectural details of a museum, and I love the change and challenge from my usual Sierra haunts.
Eva is German and her sweet family came in from Germany for the celebrations, meanwhile Stanton's super joyful family enthusiastically circled the events with their own Nikon camera(s). It was impossible not to want to take pictures of Stanton's beaming smile every time he stared at his beautiful bride.
There were some really fun and thoughtful details in Eva and Stanton's day. First, they opted not to have guests bring gifts and instead asked guests to put their place cards in one of two buckets, each representing a different charity: one for East Bay Parks and another for Pets in Need (their own dog, Shaun, is a rescue dog and was in attendance.) Then, for each guest card, they donated $5 to the charity they chose. What a wonderful idea! Stanton is also a big craft brew fan, incorporating some of his favorites into the wedding. On the table was a suggestion card for guests, recommending drinks, food, and explaining the donations process, to ensure that guests got the full flavor of everything that had been provided for their enjoyment. And the catering by Aurora was truly spectacular!
Such a beautiful day to celebrate the blending of two families, cultures, and countries. Congratulations Eva and Stanton!
Photographer's Assistant: Racheal Roediger, Venue: Triton Museum of Art, Santa Clara, CA, Hair Stylist: Vinnia Tjhin, Staging and Catering: Aurora Catering