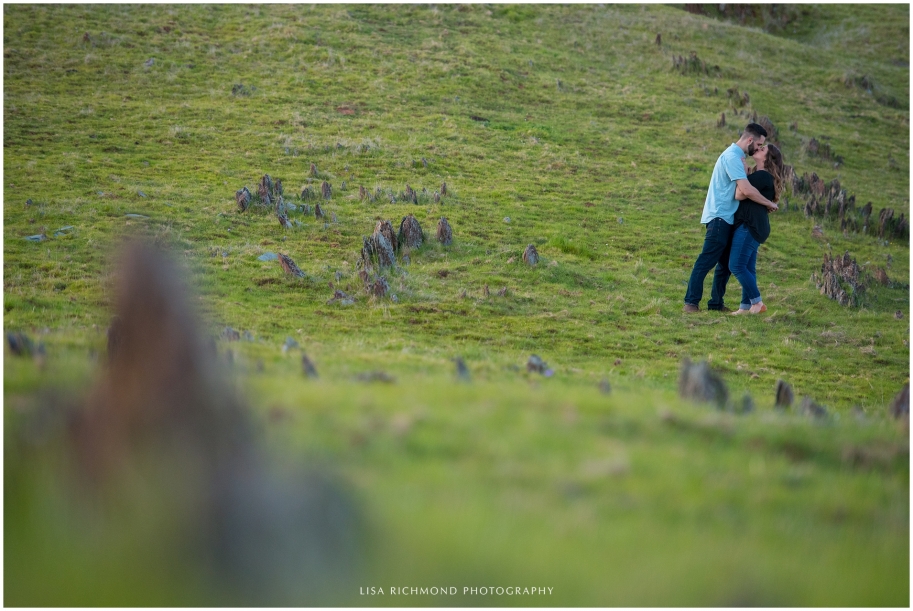 Working with a couple through their engagement is one of the things I like best about wedding photography!  You get to know the couple so much better when you have those extra few months of chatting, photographing, planning, and just shooting the breeze.  Jessi and Peter booked me to photograph their wedding at Windwalker Vineyards this fall, but before that we snuck in a sweet little engagement session to get these two some pre-wedding practice (and a gallery of great images to include in their wedding, too).  With smiles like Jessi and Peter have, it was no struggle teasing out some great moments in the El Dorado Hills.
They met while both working at Target, and Jessi was immediately drawn to Peter's positive personality and fun demeanor.  I guess the feeling was mutual because after just one date, these two were pretty much inseparable!  They absolutely love trying out new restaurants, which was a common theme throughout their engagement session.  Between smiles, hand holding, and those passionate kisses, there was plenty more passionate talk about what and where they were going to eat afterwards!  Being relatively new parents to their one-year-old son Oliver, the rare treat of a night out on the town was not being taken lightly.  I think they chose sushi, but really, when you're this happy together, pretty much anything will do. 🙂
I cannot wait to be part of Jessi and Peter's vineyard wedding!  They are planning an intimate, heartfelt, and outdoor affair with lots of handmade, personal touches – the kind of wedding that I dream about.  I can't wait to see little Oliver totter down the aisle as Mom and Dad's ring bearer!  There's sure to be plenty of feels when this loving couple says "I do."
Kleenex?  Check.
Looking forward to the Big Day,
Lisa