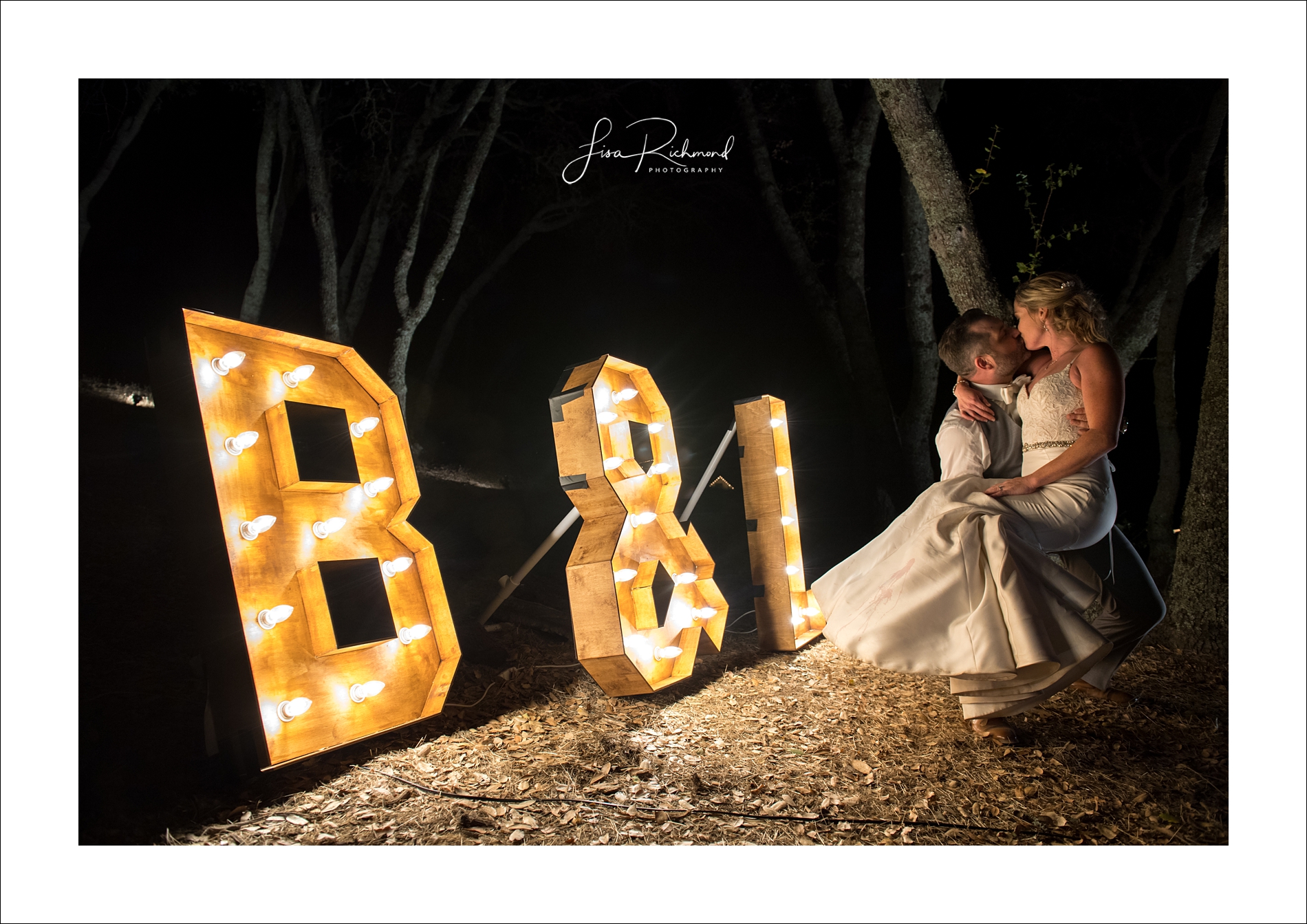 I firmly believe that you can gauge the vibe of someone by the tribe they attract to them. If the guests at Laura and Bradley's wedding are anything to go by, this couple is authentic, fun, and playful. I mean, what a wedding! We had SO.MUCH.FUN.
Our day began at the beautiful and rustic Prospect 772 winery in Angel's Camp, enjoying the laid-back vibe of Laura and Bradley's closest friends and family while the couple got ready for their nuptials. Although rain threatened and the sun tested us with its disappearing act, it was a wonderful, cool day for an October wedding.
Meanwhile, preparations were going on under a big, white marquee for the reception. Erin Betts from Erin Betts Events was wonderful to work with. Susan Kelleher from Sweet Lilacs and Maribeth from Standard Party Rentals did an amazing job, with attention to detail, on the reception decoration and place-settings for dinner; a scene which came alive later in the evening as candlelight illuminated every table to stunning effect.
Speaking of attention to detail and gorgeous illuminations, Laura and Bradley are lighting enthusiasts. Every year they create a Christmas lights display, choreographed to music with over 55,000 lights, and 3 months of teamwork, at their home. They extended this bright vision to their wedding venue, with lights along the roofline of the tasting room, a gorgeous archway entrance to dinner, a fun B & L sign on the hillside just beyond the reception area, and bulbs crisscrossed over their dance floor, all of which created an atmosphere of warmth and wonder as the evening's events moved from place to place.
While the ceremony itself was full of genuine love and laughter, the whole party came alive after "I do!" Sierra Smoke caterers did an incredible job providing a beautifully-displayed cocktail-hour spread for guests to enjoy while socializing. After dinner and some fantastic toasts that had everyone laughing, we progressed over to the dance floor and everyone got down with "Sounds Elevated", whose live performance overlaid onto DJ-fed popular tunes, gave a sense of immediacy and connection to the night that got every person, no matter their age or disposition, onto the dance floor; it was packed from start to finish. Love Train was a personal favorite moment of mine, watching the unabashed joy of everyone circling the dance floor in celebration of the happy couple.
The party was due to close-down at 10pm and move to a local country club for late-night snacks but, at 9:45pm it felt like it could have kept going for hours more. But then, at a few minutes to 10, the heavens opened as if on cue, and sent DJ, band, and guests scattering for cover. Like the rest of the day, the weather was perfectly timed.
What's more, Laura and Bradley beamed and glowed throughout – and they rubbed off on everyone they touched that evening. Yes, it was their day 100% and they were the center of attention, but myself and my second photographer couldn't help but walk away reflecting on the positive energy that infused us all evening, driven, it seems, from a genuine love for two great humans who have brought such a fantastic community of people together. We were just thankful to be considered a part of their tribe for an evening.
Special thanks to my fabulous 2nd shooter, Michelle Carter. Laura and Bradley- I hope you enjoy this blog we created for you.