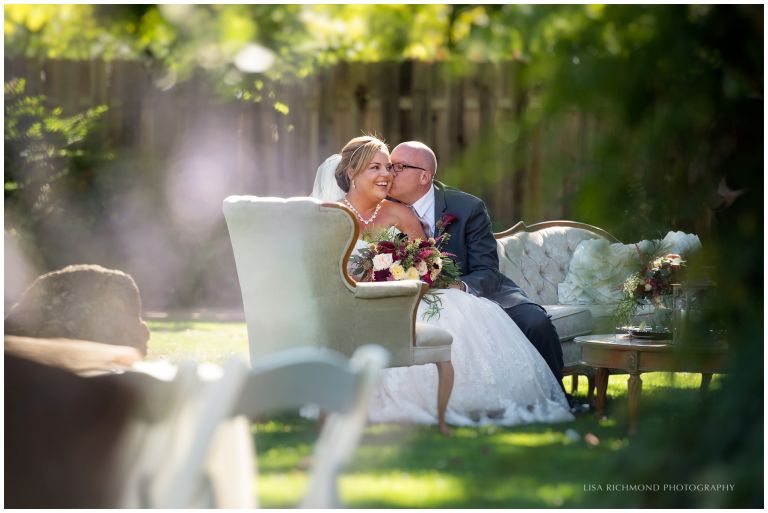 Melanie and Mark were married at St. Joseph Marello Catholic Church in Granite Bay on a beautiful Friday afternoon, with a reception at Flower Farm Inn in Loomis. So rarely do I get to shoot weddings in churches these days and I so loved the stained glass windows, the cavernous high ceilings, and details of the alter.  Coupled with the sermon delivered by the priest, it lent a certain solemnity to the ceremony.
And what a beautiful celebration this was, in one of my favorite reception venues and with lots of thoughtful details that played on Melanie and Mark's initials. M & M monikers were everywhere from table runners and napkins to waxed donut bags and three feet high, brassy decorations at the entrance to the reception barn. (And while we're on the subject of those apple donuts: YUMMY!)
Melanie's father gave a hilarious toast, speaking about the first Thanksgiving he spent with Melanie and Mark as a couple, and faking everyone out with several false endings to his speech. Mark's brother and best man's toast was equally well-delivered, sharing an emotional story about the time he and his son went to Yosemite with Mark – a toast which was interrupted by Melanie's nephew who wanted to share his sloppy, half-eaten apple with the bride and groom.
The evening ended with adults and children dancing together to the live band who did a great job of jumping into the fray and involving the dancers in every song.
What a fantastic day with two wonderful and warm families! Congratulations Melanie and Mark. I loved being there to capture every heartfelt moment and detail.