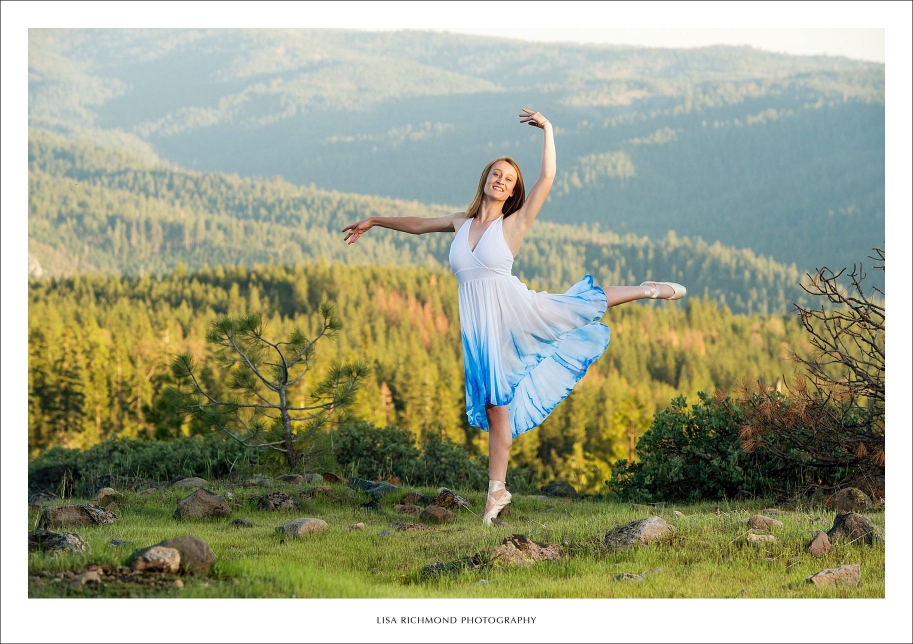 Ahhh, Simone.  Even her name is graceful!  Just like the lovely dancer that she is, Simone exudes a delicate beauty and poise that takes my breath away. When I arrived for her senior session, Simone subtly dropped that she had brought her toe shoes with her, and I not-so-subtly exclaimed that we MUST head upcountry for some dancing shots in the mountain sunset! ("text your mom, we're going to be late"). Both nature and dancing have always been in my blood and I thrill at any chance to combine the two into an artistic expression of grace and beauty.  Simone was, literally, "on point" to make this happen.
We ended up at a spot that had recently been burned by the King Fire, but which was already beginning to regenerate itself after a very wet winter and spring.  Green grass spread out over the charred landscape, turning a once thick forest into a verdant meadow.  How wonderfully nature reinvents itself in the presence of change and pressure!  It was a fitting metaphor for the journey that Simone is embarking upon: although entering college is at times confusing and demanding, the end result is one of positive growth and personal development.  I have no doubt that Simone will express her talents in the most amazing way as she pursues her studies of immunology at Cal Poly, San Luis Obispo.
This is not the first time I have photographed Simone, nor do I wish for it to be the last!  I have been lucky to chronicle the milestones of her and her family throughout the years, which is always a privilege.  Watching a family grow and flourish is always one of the deepest prides I have in my job as a photographer.
For Simone's "final curtsy" in the Sierra's, it is only fitting to share some of her thoughts on her youth, as well as her wishes for the future.  Simone shared with me that she is extremely proud of having her mother as a role model, who emphasized to her the importance of education (no matter what your age!) and demonstrated a true love and commitment to the students that she taught.  Simone hopes to be remembered for her caring and selflessness and would like to someday apply these skills of compassion and caring into her immunology career.  I certainly know that she can do this – but the "tiny dancer" in me hopes she keeps a toe or two in her ballet shoes, too!
All the best to you Simone and may this next dance in your life be the best yet.
In Celebration,
Lisa