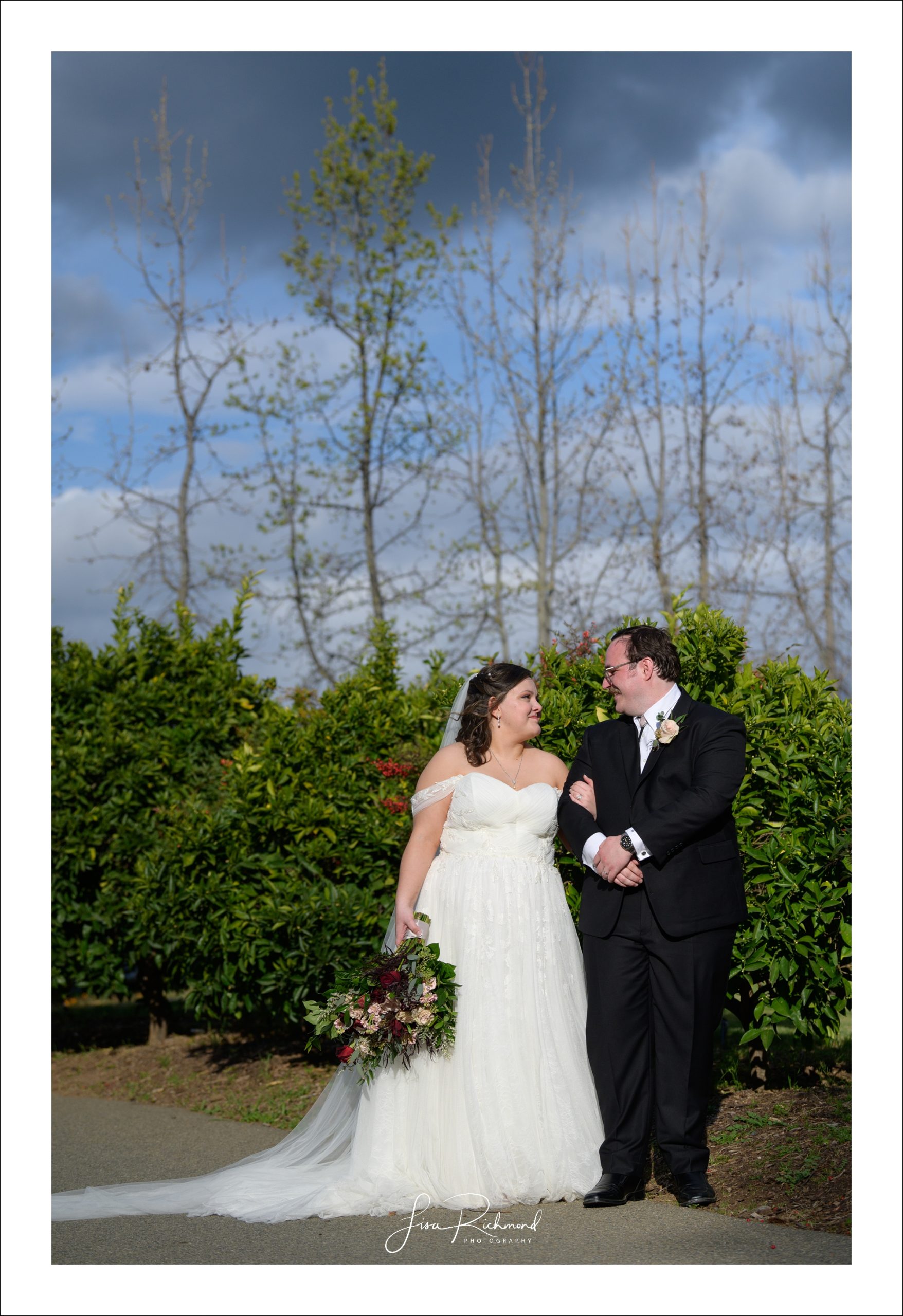 March 19 was one of those early spring days in northern California where you knew rain was in the forecast, you just didn't when it was going to start and for how long. According to Harrison, it didn't make a bit of difference to him, he was marrying Sarah, the love of his life. Indoor, outdoor…let's just do it! Having been a bride with the experience of a full-on downpour on our mostly outdoor wedding, I'm empathetic to this and am able to help keep my couples focused on what is most important if needed. "Wet bride, lucky bride",  "A wet knot is harder to untie than a dry knot", I know they've all worked for my marriage and I'm sure they will for Sarah and Harrison too. Lucky for them, the Flower Farm has a bright, naturally lit reception space that can double as a ceremony change of plan and of course, anytime you have Cocomont Styling, they always have a few Plan B's up their sleeve. Their crew arrived late morning to hang the lovely pink draping once the call was made to have the ceremony indoors. The gorgeous florals from Couture Weddings by Dottie, were already lifting the energy in the room by the time we arrived.
As a photographer, one of the lovely things about rain is often the magnificent light you get peering through the clouds once the drops taper off. The day was beautiful and we were able to use the lovely grounds of the Flower Farm (one of my favorites venues) and Sarah and Harrison were so sweet and kind to work with. The love between them was genuine and alive- the kind you feel just being in their presence. Their ceremony was officiated by a family member and old teacher of Harrison's and had the bride and groom and laughing out loud.
Many thanks to Ember Leddy, my assistant extraordinaire, the great folks at the Flower Farm for their always top-notch service, and Couture Weddings by Dottie and Cocomont Styling for bringing it, every single time.
Harrison and Sarah- congratulations on your marriage! Wishing you a beautiful life together.
Here are some of my favorites from the day. Enjoy…..