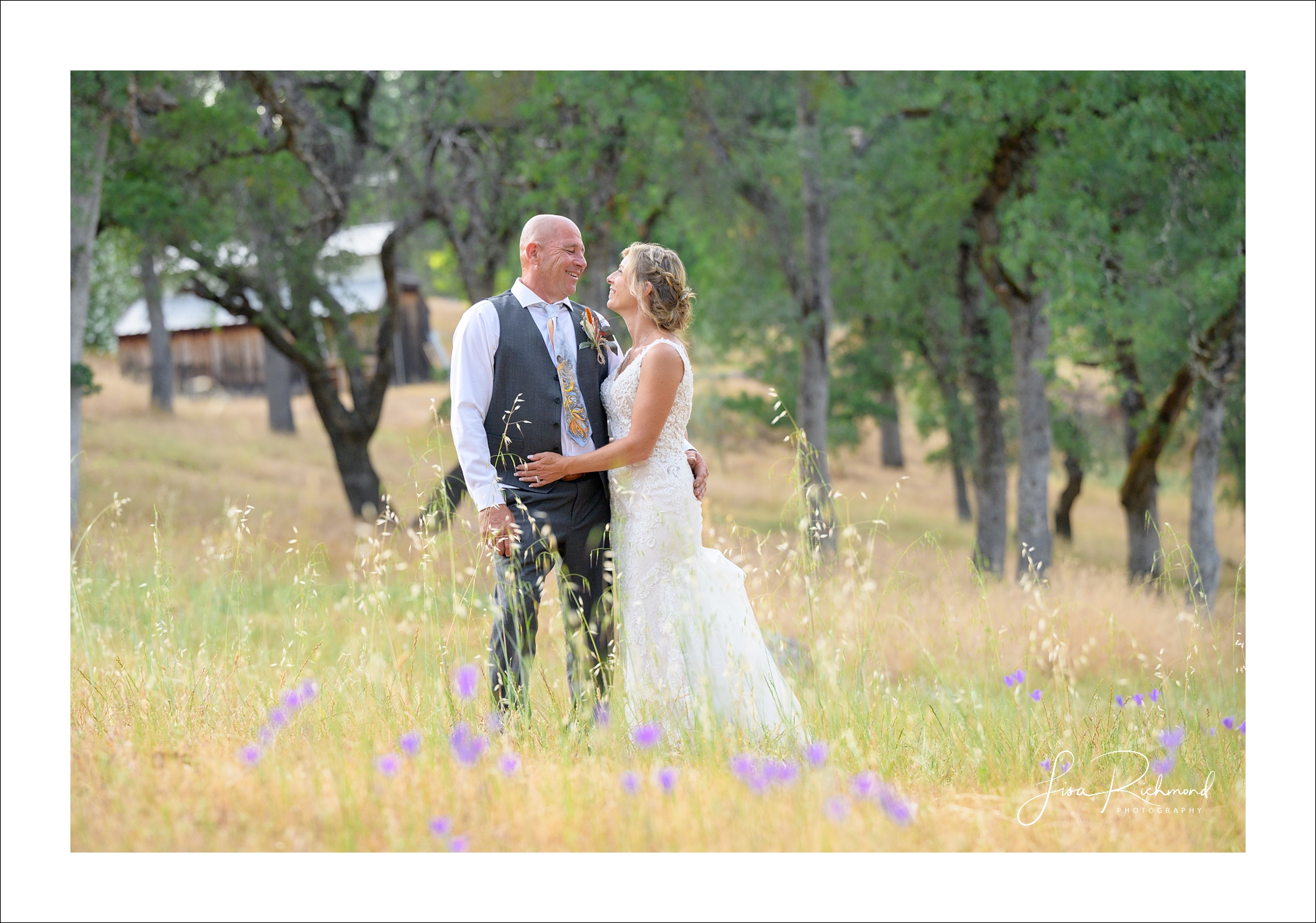 Backyard weddings can be a lot of work but they also can be that perfectly small, intimate vibe that you are looking for. Add in a whole lot of elbow grease, the love and support of family and friends, and an extraordinary designing, planning and styling team (Elysse Goerss, Blessings From the Moon Events Co,) and you have yourself a gorgeous celebration right in your own backyard.
That said, June 17, 2023 was a very hot day in El Dorado. The sun was strong and bright and shade was hard to find. Donna started out at an Air BnB in Shingle Springs with bridesmaids, Debbie, Lauren (her daughter) and Emma, while Robert and the guys, Sherman, James and Rick were at the house in El Dorado. While the day was planned, it was loose too, to accommodate the flow of the hosts, their guests and ultimately the spirit of the wedding couple.
After the rings were passed around through the guests so that they could add their own personal blessing to the couple, the ceremony began. Robert had his back turned until Donna arrived at the top of the aisle and began her walk down the long winding path that led to their ceremony location under the oak trees. Donna was escorted by her brother, Rick. There was so much love and emotion expressed between Donna and Robert from tears to full-out laughter which was accented by the gorgeous voice of Jaclyn Lovey.
After some photographs around Robert's prized '69 Firebird, the party began. Delicious food, wonderful toasts and a lot of mingling- the sun was finally tucking behind the trees and the coolness of the start of evening settled in. Xstadic, from Cameron Park provided an energetic live sound to support the sun going down.
I originally was referred to Donna and Robert through some mutual friends (another couple whose backyard wedding I photographed over a decade ago). I loved getting out with them for an engagement session down by the river at Alder Creek to get to know them both better and how they are with each other. It really helped when the nerves of the day kicked in at various times for both of them, for me to know who they were together and help to bring them back there. Congratulations Donna and Robert- wishing you a wonderful life together full of laughter and adventure. You've got this, Robert! 🙂
Photographed by Lisa Richmond and Erin Miller
Venue: Backyard in El Dorado, CA
Coordinator, Planning and Styling: Elysse Goerss, Blessings From the Moon Events Co
Hair Artist: Makenzie Smart 
Makeup Artist: Juvina Mata, Dynamic Images
Ceremony & Cocktail Music: Jaclyn Lovey
Live Music: Xstadic
Caterer: Event Advantage