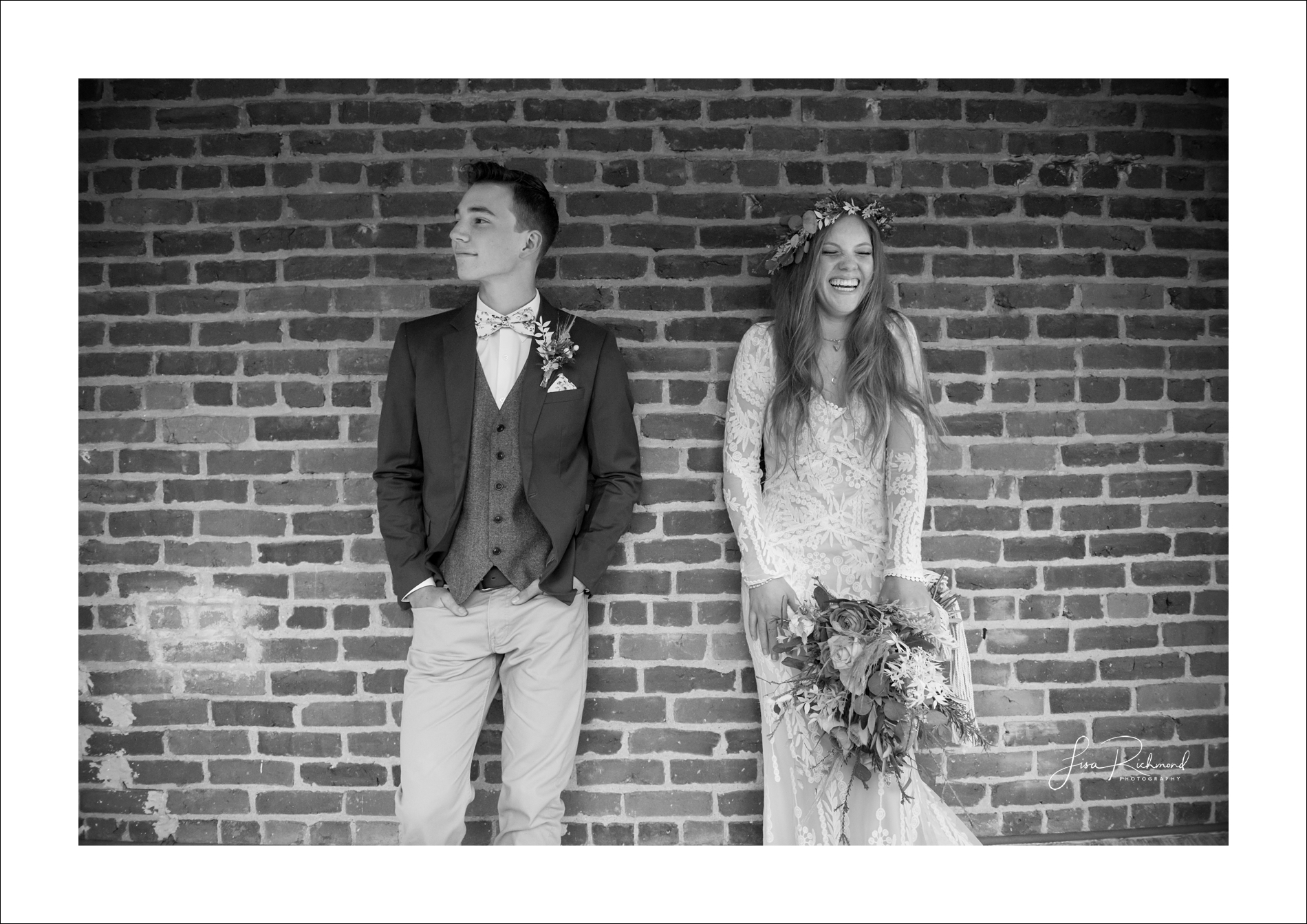 Mattea and Drake planned their wedding on what turned out to be one of the heaviest downpours we've seen this year. About 10 days earlier, Mattea reached out to me looking at the looming forecast and inquired about a possible "Plan B". Initially I had encouraged them to book their rooms at the amazing Seasons Bed and Breakfast next door to their wedding venue at The Shakespeare Club with the hopes of using it for all of their pre and post ceremony photography. Tucked away and secluded from the hustle and bustle of wedding set up and the arrival of 200 guests, The Seasons provided a lovely and calm back drop for photography. I also knew Mattea's boho vibe was the perfect fit for this colorful garden location. It was perfect for them.
So what did I do when Mattea inquired about Plan B? I punted.
Well not really, but I've lived and worked here long enough to know that one can't really know the weather until a few days out. I remember emailing her back a cheery response telling her to keep smiling and to stay focused on other things and that I'd make whatever we needed to, work. I wanted to take her mind off it since there wasn't too much we could do. I believe I suggested at the time that I had a really good feeling about the weather on the day she planned to marry her high school sweetheart, Drake. She graciously thanked me for my positivity. You see, back in 2000, on a day it hadn't rained in Amador County for over 10 years, the skies let loose when I married the love of my life at an outdoor location where we also had a really good feeling about the weather. And I know from experience it doesn't really matter. I had been there myself and knew it had the potential of a beautiful silver lining.
….(Of course in the meantime, I sussed out a Plan B which ultimately and comically included a rain protected patio at the Seasons(thank you Robin) for the wedding party and families, my daughter Jaz, drenched, standing in the middle of Bedford Ave with an umbrella held high protecting a photo strobe, and me perched under the open hatchback of my Honda CRV for cover all  the while shooting the wedding party and family groupings. As it turned out, IT WAS POURING, but it was a Plan B. I sure wish I had a photo of that.)
But here's the thing, what I found out that day back in 2000 when I married my husband during our own Plan B, as we all crammed into a tiny, little school house, huddled around a wood stove, was that it really didn't matter. Everyone came together in a way that couldn't have happened without a little inspiration. Sometimes it's those surprises, like rain, that help everyone focus on what's really important.
Mattea and Drake's wedding was one of those inspired, little surprises. On March 14, when this bride and groom stared into each others eyes, surrounded in the love of family and friends, Mattea's father Matt, tears flowing from his own eyes, gave his blessing to Mattea and Drake Lightfield as he pronounced them husband and wife.
We arrived early to get set up and The Shakespeare Club was brimming over in "can do" energy- a hive mentality transforming a unique, local auditorium space into one that was flowing with a beauty and warmth that only a community, embraced in love, can successfully pull off. WOW! These are energetic folks used to working together for the common good and this expanded group of Frost and Lightfields', many from Westside Church were getting busy, laying out asian rugs, hanging macrame from the alter, bistro lights from the ceiling, decorating tables in funky farmhouse glassware and stunning florals. I even spied a couple helpers "testing" the desserts behind a storage wall, just to make sure they were suitable for guests.
Seriously, I don't think I'll ever tire of these homespun weddings overflowing in community, warmth and love. It just feels real when real matters. In fact, this gathering was the good vibe that we didn't know at the time, we ALL needed to share together.
Much love and congratulations Mattea and Drake. Your smiles all day long speak volumes about your love for each other…and besides, you know what they say, "a wet knot is harder to untie".
————————————–
Photography: Lisa Richmond Photography, Assisted by Jaz Leddy, Venue: The Shakespeare Club, Accommodations and photography location: The Seasons Bed and Breakfast, Wedding Coordinator: Melinda Gray, Floral Design: Melissa Cowan, Placerville Flowers on Main, Videography: Rod Brace, DJ: Caleb Reyes, Hair Stylist: Kaylee Terwilliger, Impression Salon, Make up Artist: Hali Buchignani