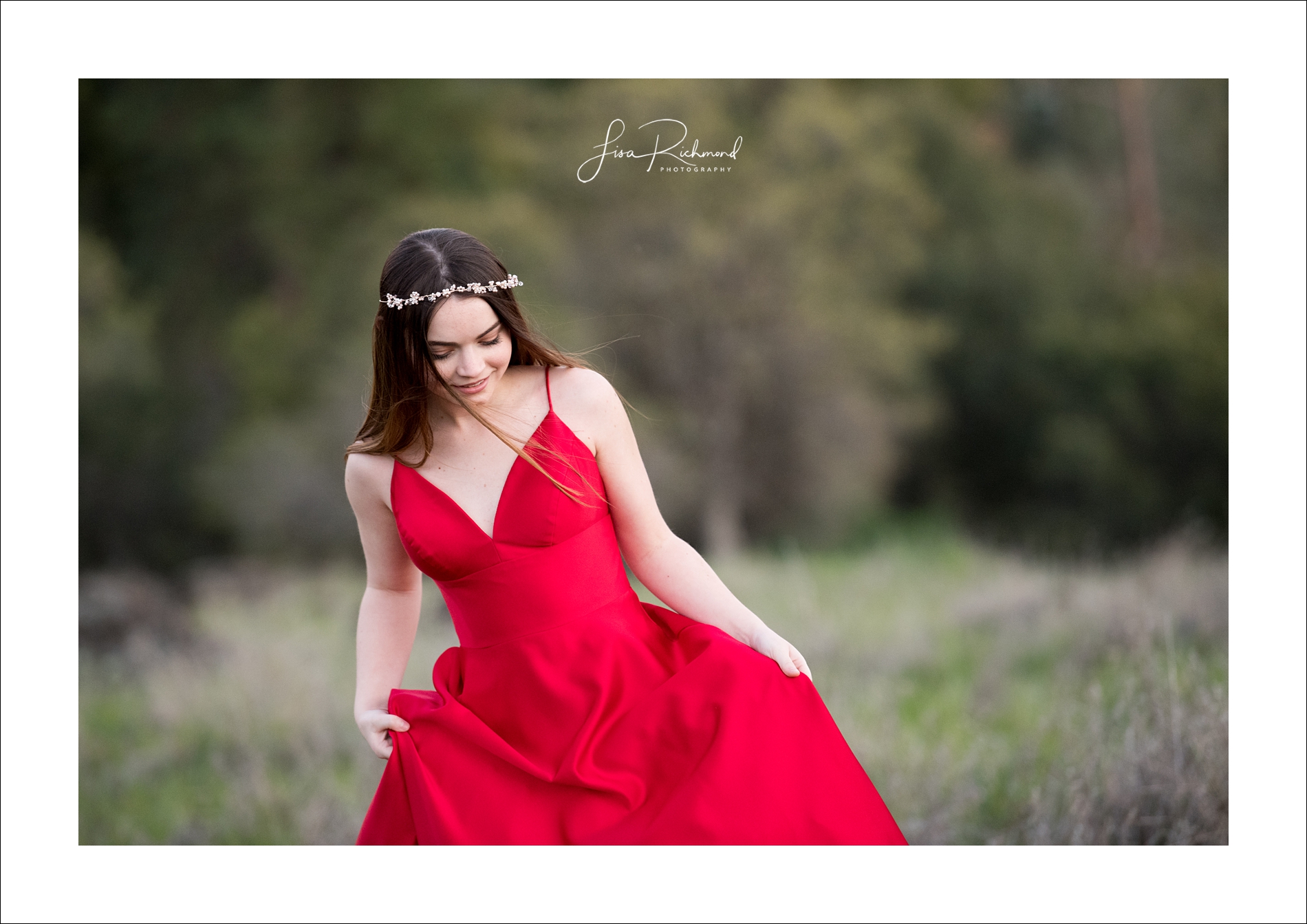 Just 11 days ago, right before the federal gov't started to acknowledge the severity of coronavirus, little did we know that Paislee choosing to slip into her prom dress at dusk at the end of her senior session, would be so prescient. You see it was literally two days later that El Dorado High School, closed. It wasn't but several days later that graduations, proms, and any end of the year high school senior activities seemed likely threatened.
Paislee is a natural beauty, with a stunning smile. She's full of life and gently carries with her both confidence and a bold, warm heart. Her mom, Jennifer looked on proudly, soaking it all in.  You see, these sessions can also be about a mom taking it in, all eighteen years in all those little moments and all those moments in the middle.  Just like seniors, moms need some closure too.  Choosing to do some family photographs down the road, she watched and smiled out loud as she saw the beauty of her daughter again revealed right in front of her. Following her proud mom, Paislee is choosing to go into the medical field once she graduates from El Dorado High this May. I'm certain the medical field can utilize her talents.
Even just eleven days ago, I remember the threat of this virus and its' looming severity as Jennifer, Paislee and I moved around to a few locations, proactively applying hand sanitizer along the way. And despite all of this distraction, the normalcy of meeting another cool senior on the brink of her best life fed both my soul and the creative side of my brain. I didn't know it at the time but it would be one of my last sessions for (an undetermined) while.
When my sessions end there are often hugs involved but not this time-well other than a big AIR HUG. I remember at the time feeling awkward for keeping my distance but we were all choosing to be extra safe for ourselves, for our families, and ultimately we discovered, for our medical workers, hospitals and for our elderly. So much can happen in just eleven days.
Till we get the word, I won't be working out in the field with my customers as doing my part to flatten the curve is my highest priority. When we do get the word that it is ok to work and interact again, I want to be there to capture your seniors as it is one of my most favorite things to do. Maybe it's because I am also a mom of a senior and I get it. I'll need closure too. I need things to feel as normal as possible for me, but mostly for my high school senior.
Please do call me when we are on the other side of this- god knows I'll need your support to get back onto my feet when this is all said and done. Let's make sure to put that prom dress to use and I'll be sure to capture some beautiful images as we reflect on this normally celebratory but crazy time in all of our lives. It's all going to be ok.