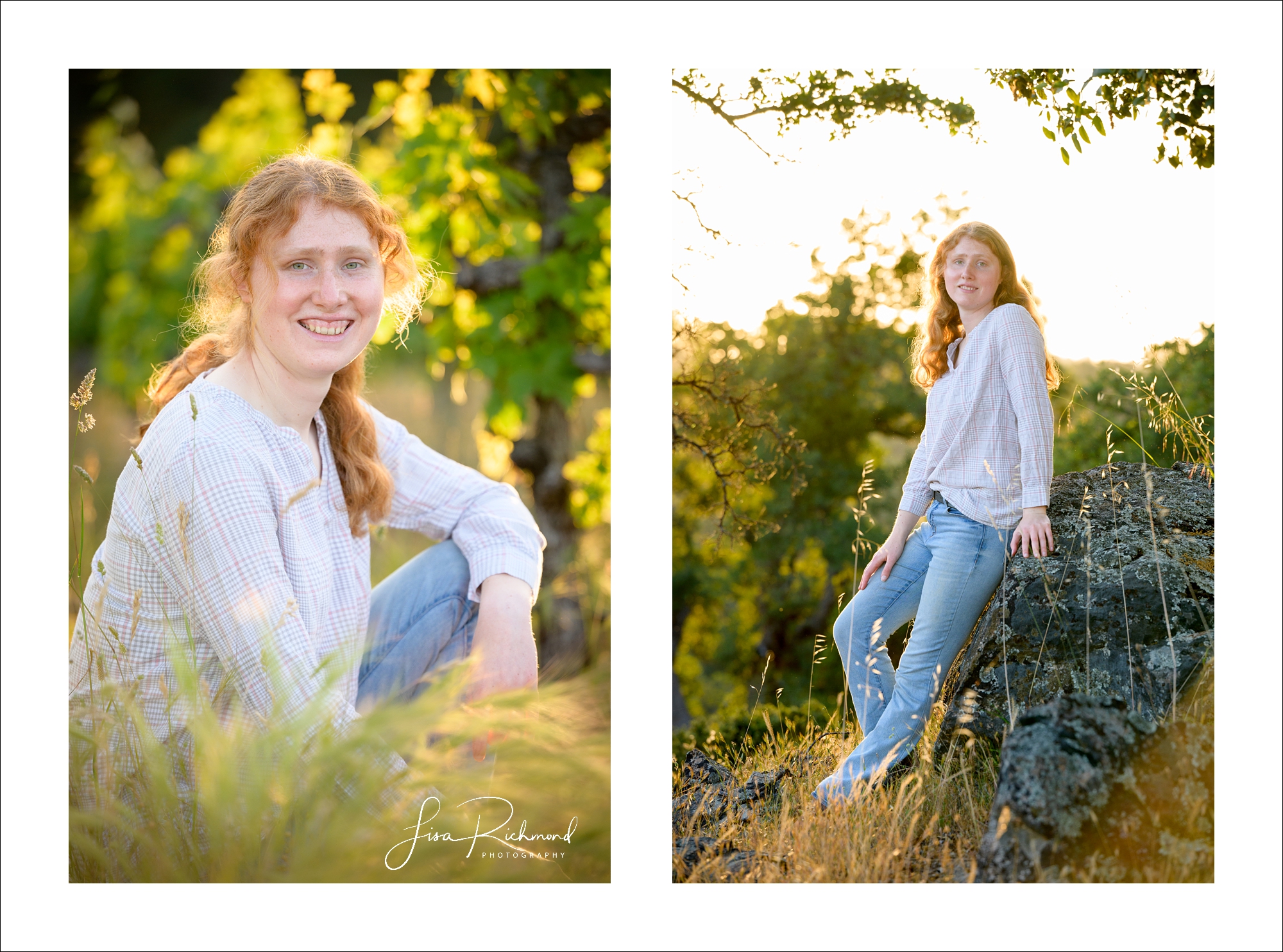 Anna graduated with the Union Mine High School, Class of 2023 a couple of weeks ago. I imagine all these seniors are breathing a sigh of relief having made it safely to summer and will begin shifting gears in another month or so, preparing for their college departures. Anna will be attending Cal Poly in San Luis Obispo as an Animal Science major. She greeted me proudly displaying her new college sweatshirt.
I loved getting to capture her senior photographs where she grew up off of Sand Ridge Road in the green vineyards with that gorgeous red hair. Anna is pretty low-key and enjoys reading, writing, her pets, photography and playing the violin. Nature is her comfortable place.
Her musical tastes are all over the place. She likes stuff from the 80's, Irish music by the Chieftains and some Frank Sinatra. 
In ten years she hopes to be working as a veterinarian, getting to spend a lot of time with animals and the people who care for them and preferably living somewhere with a nice climate and "plenty of the wild outdoors". When I asked her what she wanted to remember of this season of her life she said, "Working hard got me to where I wanted to be, and I've grown a lot over the past few years. I made some awesome friends. I didn't give up on my hobbies, even when I had to put them aside sometimes because of schoolwork. I made it!"
I always like to inquire about a graduating senior's advice for incoming freshmen- Anna's was simple, "Get involved in something. Don't be afraid to try new things. Do your best with your schoolwork, but find a passion project too. Saying hi and smiling can brighten someone else's day."
Ain't that the truth. Congratulations Anna and thank you for sharing yourself with me. Here are a few of my favorites. Lots more to come! Great to meet you and your mom.