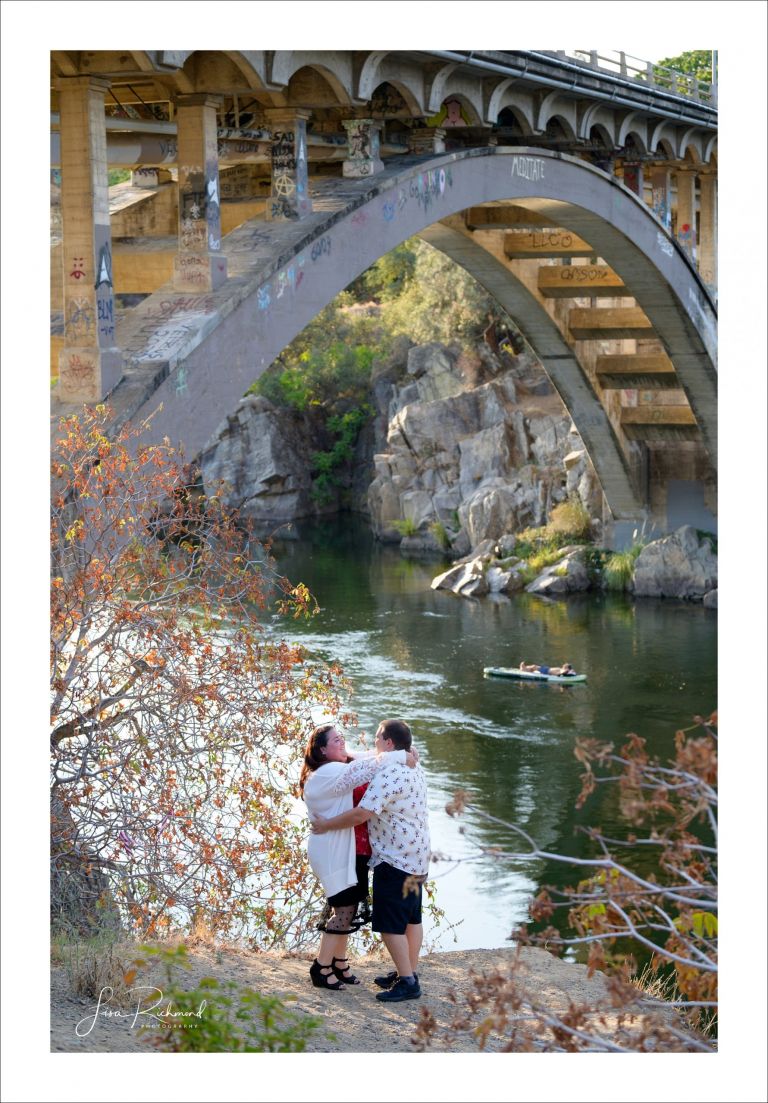 Engagement sessions are definitely the best way to get in front of the camera before your wedding day. For me, I get to spend some time getting to know more about the couple and what their connection is with each other, all prior to their big day. For the couple, they get to know me and a little bit about how I work while spending some time in front of the camera. Wedding days can be full of nerves and I find it is so great for us to all have worked together in a more relaxed situation. They know what to expect and I have more feedback on how to work to bring out the best in them.
I met Cara and Justin near the Rainbow Bridge and we walked down to the American River together. This was a HOT day. It seemed everyone was on the river floating down on paddle boards, in kayaks, trying to stay cool. Since Cara grew up in Folsom she knew where she wanted to be though I admit that perhaps we all wanted to be in the river at some point during this golden hour.
We used The New Bridge, the river, and the Rainbow Bridge all as backdrops. They brought their Disney attire and Mickey Mouse ears to start off with and then switched to another outfit. I encouraged them to simply "be" with each other and move around to help ease the nerves. At one point on the Rainbow Bridge, I saw when they let it all go and forgot about being photographed for a bit since the start of the session. They relaxed right into each other and then into the process and started laughing and smiling naturally. I love how that happens and especially when that happens. The two of them are so laid back and lovely- they just needed to settle in…and perhaps me too.
They are getting married in September at Lakeside Beach in Lake Tahoe and their reception will be at the South of North Brewery at Basecamp Hotel. They are excited for a casual reception full of games and family, outdoors and in nature. I can't wait. I love Tahoe weddings! See you all there, Cara and Justin!