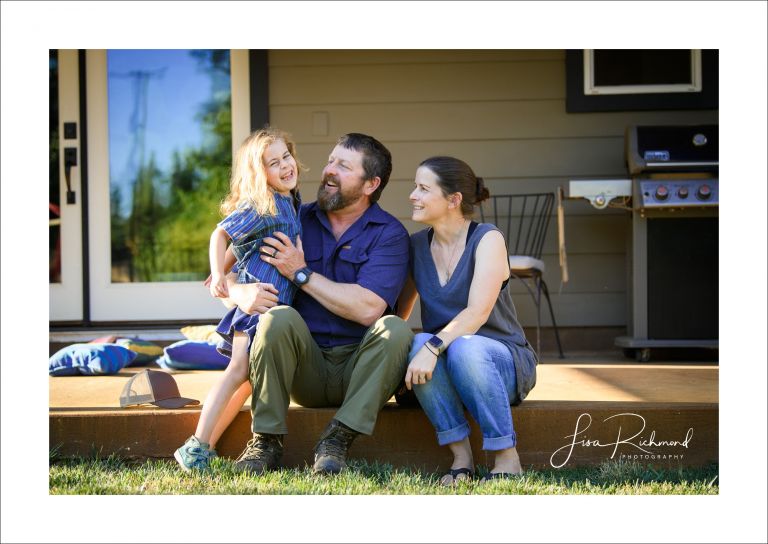 It's a lot of memories you leave behind when you decide to move from the property you have lived on since 2010. And for Smokey, it goes back to way before that to his high school years and living with his parents on the same property. In 2014 Brooke and Smokey built their own place on the property as they welcomed their new daughter, Wren into their family of only fur babies and rafting paddles.
And even though his nickname is Smokey, the stagnant wind of the "fire-full" fall in El Dorado county makes it challenging to breathe. So, even though it's hard, when it's time to move on, it's time to move on. Arcata brings the promise of even more work, a new school for Wren and a cooler and less smokey air and a cooler climate.
I loved getting to capture Brooke and Smokey back in 2015 when Wren was just an infant and was so glad to meet up again to capture some memories around the home that they built, and then built onto.  Following Wren's lead, we moved around the property and captured some memories of their Placerville home. The cats favorite place in the window, the tiny footprints in the cement of the new addition, the garden behind the fallen oak tree or the flowers in the vase soaking up the late afternoon sun. These are some memories of home. A lot changes in 6 years….https://www.lisarichmondphotography.com/blog/wren-and-her-cute-squishy-little-feet-2-months/
Brooke and Smokey are super sweet folks whom I met through mutual friends who share the love of the river- it always feels right when you travel in similar circles.
Wishing you the best of luck and all the happiness you will no doubt find as you join another community of like-minded folks.
Safe travels you guys 🙂