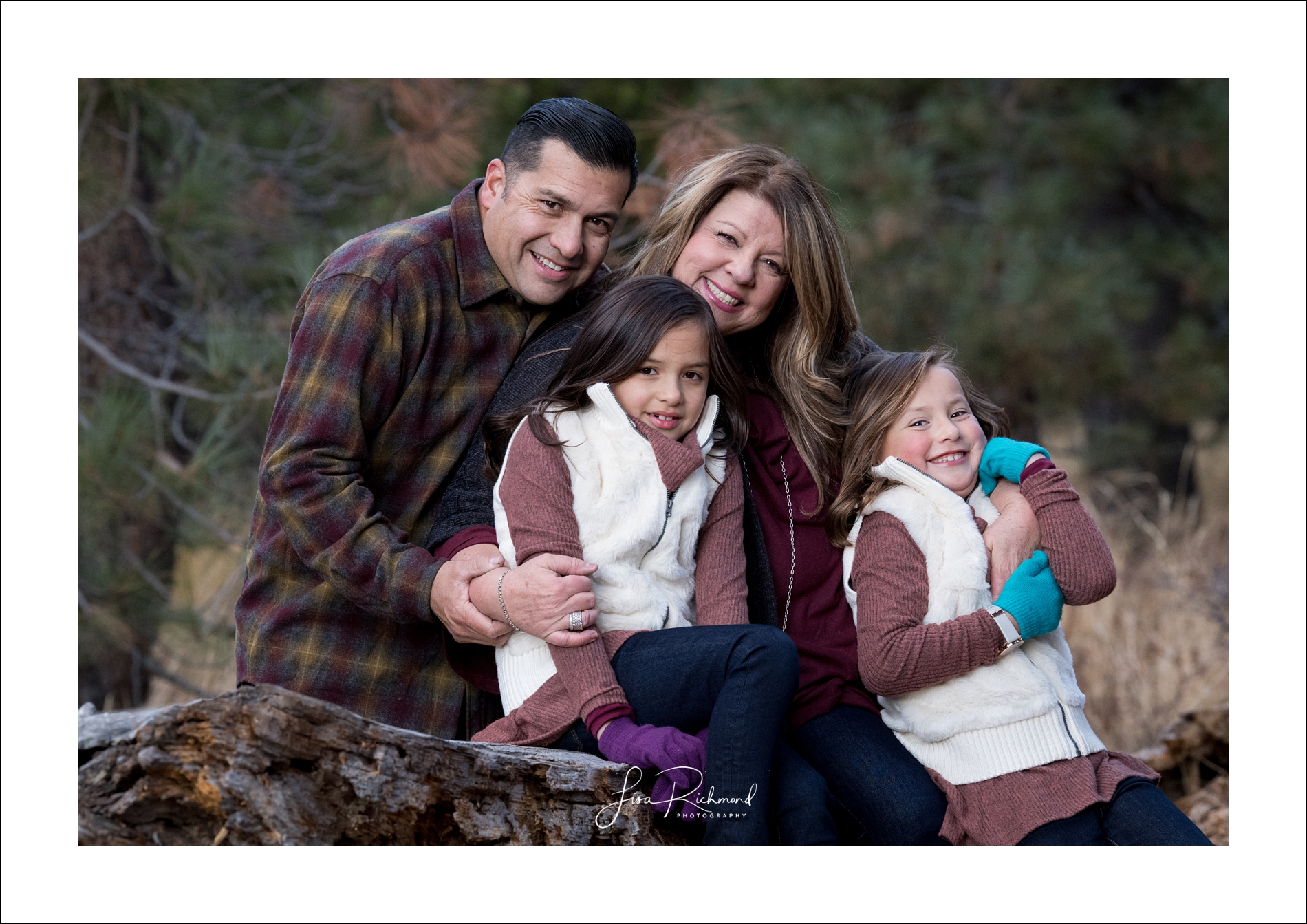 I first met Chris in Bear Valley where we were working together, Chris as a hair stylist and me as a photographer. She was just putting the finishing touches on our bride Briana's wedding day hair, which I might add looked just as lovely at the end of the wedding as it did at the start of the day. How do you do that? (check out Acqua Hair Design in South Lake – Chris does some beautiful work!)
I was honored when she reached out asking me to come to Lake Tahoe for their first family session. It was a beautiful Tahoe day but burrrr was it cold. It was the day before a big winter storm rolled in and the bite in the air was palpable especially as the sun went down. My daughter Jaz joined us to assist me.
We started out on the gorgeous Lake Tahoe shoreline but moved into the protected meadow as the sun went down behind the mountains. The troops were getting cold and the wind was strong. We found some less windy (but still cold) areas in the trees to work in.
Twins, Makenna(a gymnast) and Camille(a dancer) are super cute and fun to photograph and I encouraged them to hug each other to stay warm. Chris and Al wrangled Mack, the black lab senior member of the family. The cousins were invited along to join in and I even captured a handful of images for Dean who heads to college next fall.
It's hard when you put alot of time into the planning of something and it doesn't necessarily roll out as you had planned. As wedding professionals we work hard to get things right even when things may go sideways for our couples. Weather is one of those things that is challenging to know in advance and the cold made it hard for everyone to chill (intentional choice of words). Chris confided in me after the session that it was a little tough for them. The irony of course was the wild abandon of hair out in the wind by the shoreline for someone who likely spent alot of time getting it all together. Thought, that said, even in the blustery weather the love in this family is apparent and oh… those girls!
Here are a handful of my favorites. The rest of your gallery will be ready soon. Thank you so much, Chris, Al, Makenna and Camille – Happy holidays.