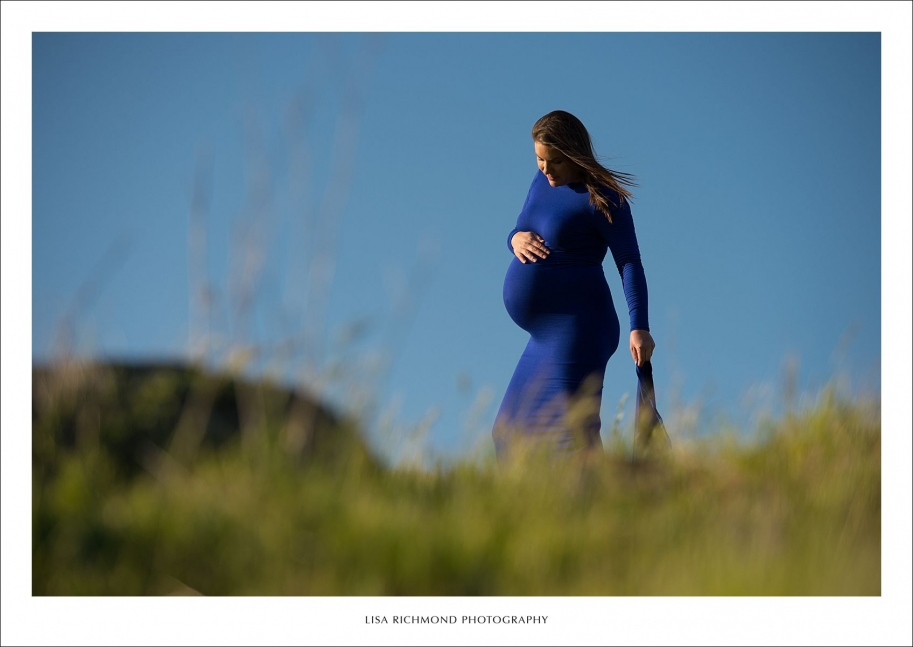 Following my friends and clients through life milestones is something I'll never tire of.  Photographing Ashley's maternity session for her first child was one of those "we are all in this life together, and I love it!" moments.  I met Ashley at a photography class I was teaching and since then, she has often assisted me on lifestyle shoots and weddings.  Calm, composed, and focused, she is a wonderful person to work with, and I know those same qualities that she brings to photography will serve her well in her new role as a mother.
Another client and friend of mine for years, Kailey, assisted me, since it was assistant Ashley's turn to step in front of the camera!  And step in front she did…wearing a lovely sapphire gown that gently hugged her beautiful nine month pregnant tummy, contrasting beautifully with the lush green hillside, Ashley was every bit the glowing goddess.  I only wish her husband Adam could have been there to see it, but he was on call for work.  Good news is that not only will they have these photographs forever, the following week, we headed out in yet another sunshiny, late afternoon to capture " the three of them". No doubt, they will all make a great team. (I'll post those soon)
I could have laid in the wispy grass all evening capturing images of my positively radiant friend.  I love seeing the amazing woman she is blossoming into as she carries this precious new life within her.  What an honor to be a part of this moment, and many more to come, in her life and the lives of her growing family.
Thank you Ashley for all that you have brought to my life, and for inviting me to document the growing baby that you and Adam have created. I can't wait to see him when he gets here!
Many thanks to Kailey Moravek for assisting that night.  Per usual, we had too much fun all working together!