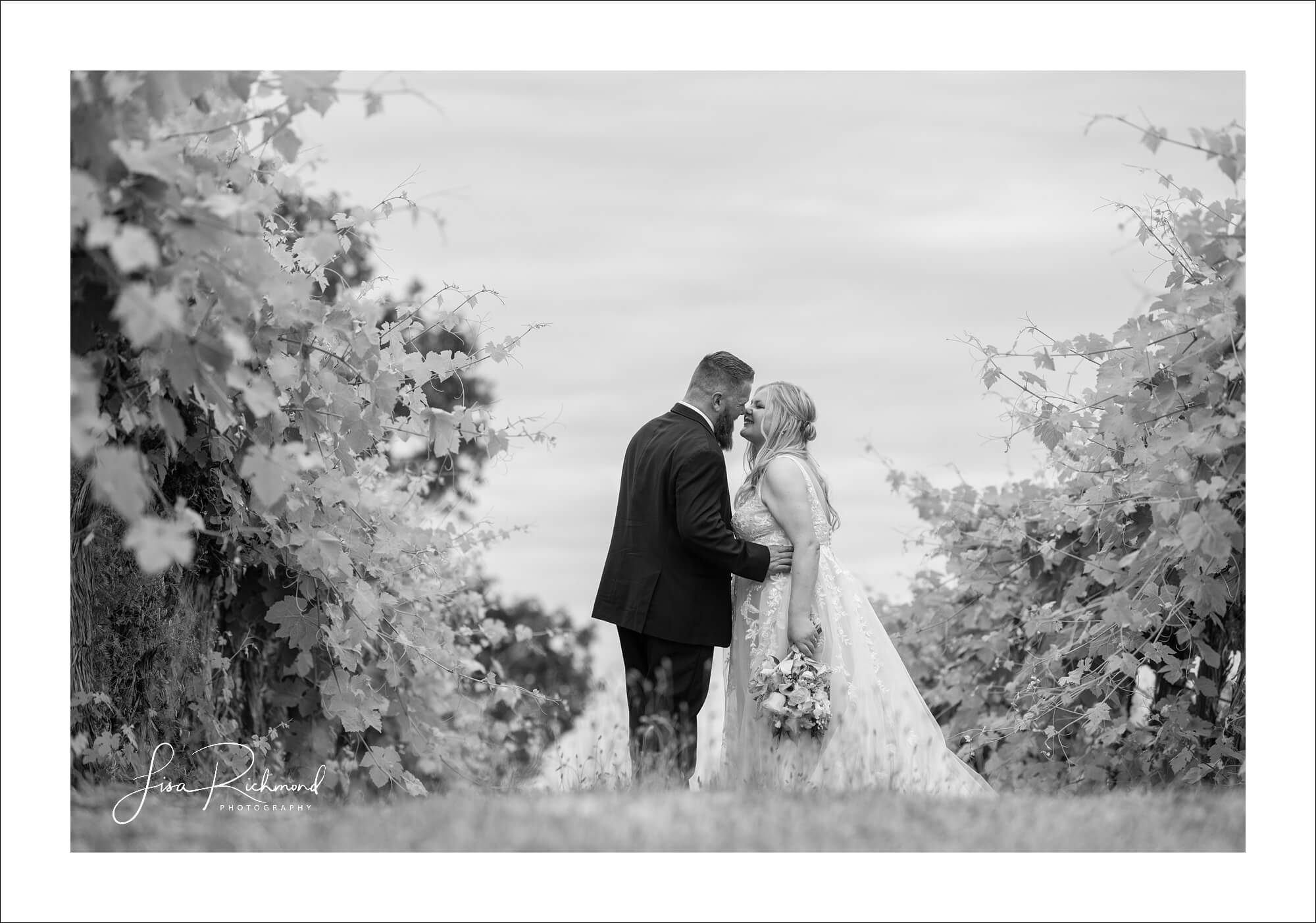 High on a hill, with rows of vines shimmering in diffused light and gently sloping southeast, Elena and Josh exchanged vows at the home of Elena's parents, Tim and Karen Jolly, owners of a beautiful vineyard and farm, WindRush.
Out in the mid-day sun of a vineyard, this exposed location could have sent us photographers seeking shade to find the most flattering light, but not today. The clouds softened the light before it hit the ground all day long while we hit the ground running to capture their wedding day. Avoiding a forecasted rain, there was just a slight hint of it when I arrived around 2pm and that was it! So sweet!
This event had been long-planned and there were beautiful details everywhere. Wildflowers were placed in unique vases and country buckets, kites were in the trees, and ladders leaning against trees. An old Ford Truck tailgate served soft drinks and water, an American flag and Liberty flag blew in the distance.
Guests gathered on the grounds before the ceremony. Just after 5:30, the procession began to the lovely sounds of the quartet, The String Poets. Elena's sisters, Katerina and Victoria were a part of her bridal party along with Candis and her Maid of Honor, Soudi. Josh was supported by his friends, Mike, Jon, Kyle, and Best Man Karl.
Elena was beautiful, walking down the aisle first looking at her father and then down at Josh who was clearly emotional waiting for her, both smiling and wiping his eyes. At the end of the aisle, Elena paused and looked both at her mom and at Josh's mom before she made her way forward to their wedding ceremony.
After the first kiss, they walked down the aisle and a dear friend released some butterflies, however, I don't think either of them knew this was going to happen as Elena looked puzzled by the rapid influx of insects around them.
The ceremony was followed by another fabulous meal from Off the Vine Catering, and the gorgeous solo work of local, now national favorite, Jaclyn Lovey- just her songs, sultry voice, and her guitar. After some more mingling and the touching toasts of friends and family, the two took to the dance floor for their first dance followed by dances with Elena's dad and Josh's mom.
After the cake cutting, the dance party began. Everyone was ready to let go of the formalities and traditions and let loose to the sounds provided by DJ Guy Lane. And they did.
Congratulations to Elena and Josh and thank you. I know you both weren't necessarily the "picture type" as self-described, but both Erin and I enjoyed finding places in your day where you forgot we were even there.
We hope you had a lovely time on the North Coast of California for your honeymoon. Your complete gallery will be ready in a few days!
Photographed by Lisa Richmond and Erin Miller
Venue: WindRush Vineyard and Farm
Catering: Off the Vine Catering
DJ: DJ Guy Lane, Sound Guy Entertainment
Music: The String Poets, Jaclyn Lovey
Coordinators: Sally McClain and Karen Jolly
Florals: Karen and Tim Jolly
Cake: Rita Richards
Hair and Make-up: Amber Friedrichs and Holly Kramer
Rental Company/Staging: CLR CUT Events