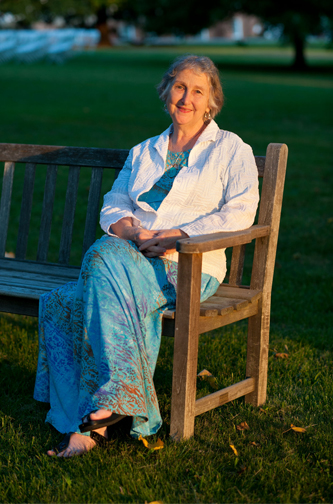 I made this photograph of Ann in 2011 as she was retiring. While I too had Ann as a junior English teacher, strangely it is not what I remember about her. You see, I was fortunate to spend a few days with Ann every year since my graduation from Chatham in 1984. I stayed with her up until 2011 in her cute little home at the bottom of the hill in Chatham, Virginia. Each night after a day of my graduation photography and her end of the year grades, we would retire to her living room to chat about school news, her growing family, my growing family and California life too. News about alumni- who was where- who married whom….Oh sure, there was just a bit of left wing politics and sports thrown in too- it was a perfectly comfortable place to be. She was a smart lady and I admired her strong will and voiced opinions.
She usually had a drink with me while I enjoyed a glass of California Zinfindel which ironically I often picked up at the Wine Shop in her town of Hillsborough. I think she enjoyed a little bourbon on occasion…right? (I can't figure out after so many years I can't recall some details). Anyway, it was perfect just the way it was every year for 27 years.
While working on this years graduation slideshow, I dug up this image that I remembered making of her. When I see this photograph, while I know she had some health issues before her retirement, I see in this image a beautiful woman ready to go out an enjoy her retirement. I see my friend. She is not sick, she survived and is strong and pushing through to the next phase of her life. I love this photograph of Ann. It's the Ann I remember for so many years outside of being my teacher.
I continued to visit with Ann at her new home on my way through Hillsborough each year after she retired on my way to Chatham for graduation, but our visits seemed rushed due to my schedule. In addition, each year I visited, her health was not good- though still, it was always good to re-connect with her. You see, Ann retired and basically did not get one. She battled with her health continually in all of her retirement years. I kept waiting for the year where she would be healthy again so that we could go out, maybe for dinner in Hillsborough, or visit my friends at their pool in Chapel Hill but she was never well enough to leave each year I visited. She was given more to handle than any one individual could or should have to. Ever.
I made plans this year to come out to Chatham a day early in order to have the evening with Ann- maybe catch some dinner and spend some time on her couch in Hillsborough- her with her bourbon, me with my glass of zin- family, politics, alumni, sports. Perfect just like always. I really wanted to connect with her about Jonathan's passing. I can't even imagine the pain and trauma of losing a son and I know I needed this time with her. After contacting Ann earlier this spring, she was up for it and I booked my flights.
A week before I was to fly to RDU, I attempted to contact Ann and her phone wasn't working. And, like an <informed> social media person, checked her Facebook page and realized that she had been checked out for some time. The last post was from Mary Edmonds whom I contacted immediately and she passed along her new number.
I spoke with Ann on the day she found out her cancer was terminal. She sounded distraught but mostly resigned and her voice was a little slurry likely due to the meds she was using to manage her pain, not to mention the emotional upheaval of realizing that THIS was it. She said she had spoken to Madeline earlier that day and expressed how hard that was. I told her that I would be coming by to see her and that I would not need a place to stay- but I would be there. She said she was unsure of what would be going on or where she would be but heard in my voice that I would be there. I guess after all these years she knew me to be strong too and that "no" wasn't going to work for me. I'd be there.
I did not know that it would be just one week later that her beautiful spirit would leave her ailing body.
I did get to sit with Ann the day before she passed. She did not look good. Having recently been with my Dad, his body riddled with cancer right before he passed, I knew what the end looked like. This looked like the end. She was sleeping, her breathing was labored. Madeline was there and told me that she had stopped eating and drinking. I understood that this is what happens at the end.
When I walked in to her room, I announced to her that I was there. She opened her eyes wide and big for about one second – maybe I startled her, I'm not sure but then she closed them and was back to sleep. I'm not sure if she knew I was there or not. I hope that she did.
I am so grateful that I got to be there to say goodbye, to hold her arm, to help move her pillows for comfort, to speak to her, to watch her as her labored breathing led the way to a place less painful and more comfortable.
As she said on the phone just one week earlier, "I don't know, I guess it's my time to go". And I guess it was.
Ann passed away the next day while I was at Chatham photographing graduating seniors. The weather looked like rain, so I decided to stay somewhere close to the Arcade covering just in case I needed a plan B. I was in Curtis' garden amongst the flowers and the pond and that lovely statue of the bold, young girl with so much youth and promise in her eyes.
I love you Ann. Rest in peace, my friend.